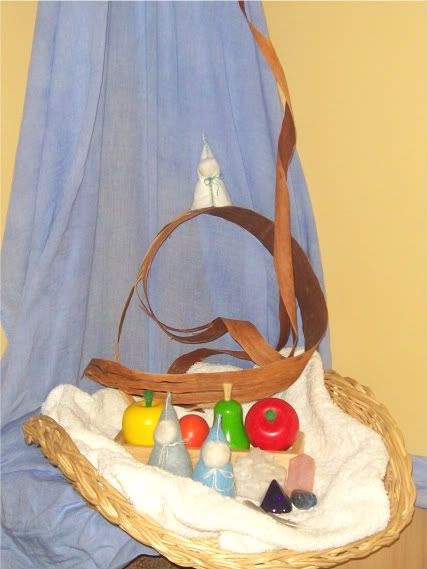 What to put on a winter seasonal display in an arid climate?
Well, in WA apples and pears are in season.
But at my house they're always being eaten.
So, I put some fresh ones in the dinner table display (along with home grown pomegranates and neighbour's gifted citrus).
But in our nature corner I used wooden fruits. My boys like to play with our Seasonal Nature Corner displays, so wood is a bit more hardy too!
The gnomes are a Waldorf/Steiner influenced addition. Their cloaks reflect the colour of the season, they're a great size for little hands and their lack of facial features enable all sorts of expressions and emotions to be possible!
I have a tutorial on how to make these.
I choose colours that reflect the season. So in winter it's greys, blues and whites. I use these colours to select cloths, gnomes and crystals/stones for the Nature Table.
We have noticed, on our walks, that in winter, the bark tends to fall from the myriad of gum trees that grow here. So, we collected some pretty fallen pieces to use in our seasonal displays.